Welcome to our website ABC , only upon reservation.
The key words of ABC DESTINATIONS:
a local and quality safety service offered by a Labenne's resident.
13 good reasons for choosing ABC DESTINATIONS
– geographical knowledge
– ground's expertise
– free proposal within 24 hours
– eco responsible conduct
– new 7 places véhicule registered in may 2017
– comfortable vehicule
– competitive prices
– only one interlocutor
– professionalism
– discretion
– efficiency
– available all year long
– full legal protection in case of accident ( passengers and luggages
We are here to make your life easy.
Let us drive you where and when you want.
A constant concern of the customers.
We listen to your expectations in order to find solutions properly.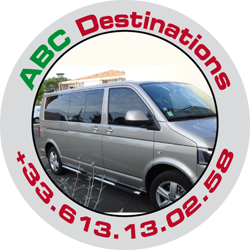 The experience at your service
The ecological solution to your travels:
7 seater vehicles
TRANSPORT OF PEOPLE
ALL DISTANCES – 7/7
transport-vtc-labenne.com