The strengths of ABC destinations :
A wide range of destinations according to your needs: train stations ( Bayonne,  Biarritz, Dax, Labenne…..) airports ( Biarritz, Bordeaux  Pau, Bilbao, San Sebastian, Santander ) and our network of partner drivers always offering you a solution.
ABC DESTINATIONS and its drivers are available 24/24h 7days/7.
The reservation system by mail or mail allows you to organize yourself easily and will show the transport details with the price.
Thanks to ABC DESTINATIONS your trip is successful and we are the one you need for all your journeys.
GARE DE BAYONNE
GARE DE BIARRITZ
GARE DE DAX
GARE DE LABENNE
AEROPORT DE BIARRITZ
AÉROPORT DE BORDEAUX
AÉROPORT DE PAU
AÉROPORT DE SAN SEBASTIEN
AÉROPORT DE BILBAO
AÉROPORT DE SANTANDER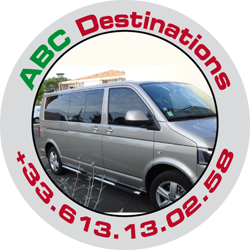 The experience at your service
The ecological solution to your travels:
7 seater vehicles
TRANSPORT OF PEOPLE
ALL DISTANCES – 7/7
transport-vtc-labenne.com